Green and world No.5 Minjee Lee represented Australia at the delayed Tokyo Olympic Games last year, while Smith and Leishman were the men's stars vying for gold.
While swimming instituted a mixed gender 4x100m medley relay, and triathlon experimented with a mixed race, golf stuck to the traditional 72-hole individual strokeplay events.
Green, who will start as one of the favourites for the Australian Open, said there were so many possibilities for both the Olympic Games and the leading United States and European tours to explore.
"I don't know if it was because of COVID, but I felt there should be some sort of team aspect to golf in the Olympics," Green said.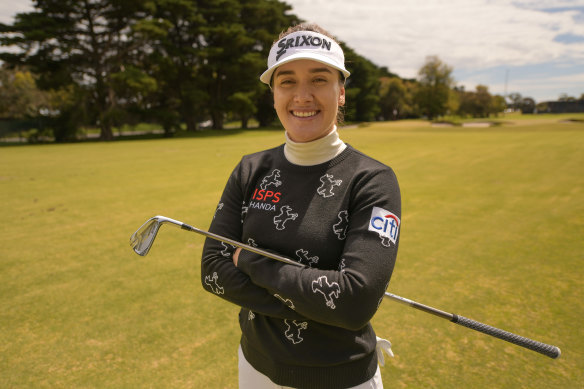 "I've always said the LPGA and PGA Tour, and even the DP World Tour and LET, should have events where men and women play together in a team aspect. Trying to play for the same trophy doesn't always work for particular venues. Men might dominate at some, women at others.
"But I believe a mixed teams' event would be really cool. Whether you do the best scores or combined scores, fourball or foursomes, there's just so many variations.
"We might have to do trial and error, but I think when we were talking about it last year in Tokyo, Cam and Leish are two great people and they said they'd love to see an event like that. I'm sure many of the men feel that way, and I'm sure many of the women feel that way too."
No national open has ever been played as an event where both men and women compete on the same course for their respective trophies, although the PGA of Australia has long used the format for the Victorian Open.
Asian Tour veteran Scott Hend said he had decided not to play the Australian Open this week, in part, because he felt both events were so prestigious they deserved their own week.
While a massive supporter of the decision for the dual gender tournament, Green expressed reservation at the double cut, which will restrict the field to just 30 players on each side of the draw after the third round.
"I must admit, I'm not really the biggest fan," she said. "There is an opportunity for players towards the bottom of the leaderboard to get an early tee time and jump back into the championship.
"Before they did the double cut, I shot six-under on a Saturday and six-under on a Sunday and finished top five in a tournament once. I understand why they have to do it because there's so many people on the golf course, but it does make a difference.
"You can improve your pay cheque by playing on Sunday."
Green made worldwide headlines when she beat the men in the TPS Murray River event earlier this year, becoming the first female to win a professional, full-length mixed gender event.
Her fiancée, Australian professional Jarryd Felton, will peg it up in the men's Australian Open after safely making the cut at the Australian PGA at Royal Queensland.
Source : TheSydneyMorningHerald